City of Terni, Italy
Category: Distribution System

Location: Terni, Italy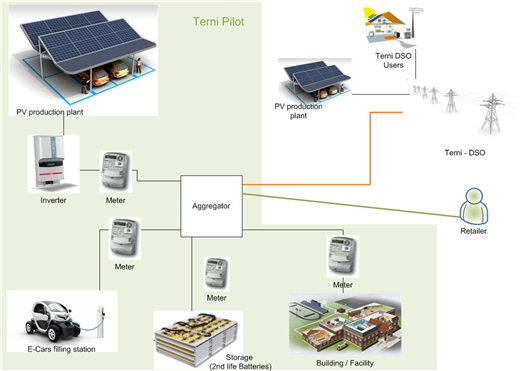 Since ten years the DSO of the local MV and LV electricity grid of Terni, called ASM TERNI, continuously increase the share of electrical energy generated from volatile renewable energy sources, especially from PV plants. Over the past 5 years there have been many investments on the electricity grid so at the moment it is one of the first smart grid in Italy. At present fluctuating RES are covering approximately 20 % of the city's overall electricity demand. However, the DSO started facing the challenge of the intermittent electricity generation from RES such as its surplus or the imbalance of actual demand and supply.

Within the project ELSA, there will be installed an electrical storage unit consisting of six 2nd life Kangoo batteries with a total capacity of 96 kWh.

It is expected that the ELSA storage solution supports mitigating and smoothing the fluctuating electricity output generated by nearby PV farms and, therefore, balancing the city's demand and supply.