UTRC presentation at the CTBUH conference

27.10.2015, New York City, USA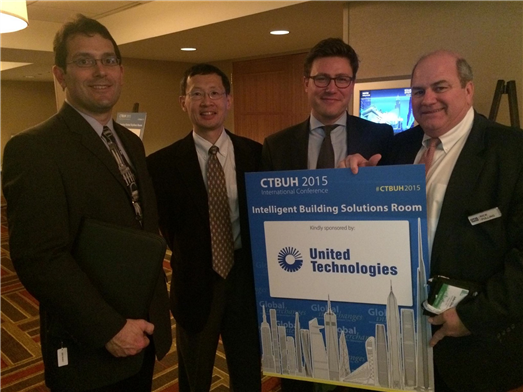 On Tuesday, Oct. 27, leadership from UTRC presented at the annual Council on Tall Buildings and Urban Habitat (CTBUH) conference in New York City, alongside leadership from UTC Climate Controls & Security (CCS) and Otis.
CTBUH is a two-day international conference that attracts over 1,200 attendees from around the world who participate in back-to-back sessions featuring industry leaders in the design, development, planning, engineering, and construction of tall buildings.
Mark Thompson, UTRC's Director, Otis Program Office; Murilo Bonilha, General Manager, UTRC China; and Craig Walker, UTRC's Director, CCS Program Office, talked about next-generation technologies, currently being developed by UTRC employees, in support of integrated, intelligent buildings of the future. In this context, also the ELSA project was presented.
The UTRC team honed in on how creative, yet intuitive, technology applications can support taller buildings while leading to more solutions in comfort, security, and faster event management - an approach that is also brought into and applied in ELSA.
UTRC's presentation was directly connected to UTC's President of Intelligent Building Technologies Kelly Romano's white paper shared during the conference, titled,
"Integrated and Intelligent Buildings: An Imperative to People, the Planet and the Bottom Line,"
co-authored by Hayden Reeve, Principal Engineer, UTRC, and Mead Rusert, Director of AdvanTE3C, UTC.
Learn more about UTRC's presence at CTBUH by reading the
Otis and CCS press release
issued just before the show.