ELSA at the Grid+Storage Workshop

25.10.2015 - 26.10.2015, Lille, France
On the 25th and 26th of November, the first regional Grid+Storage knowledge sharing Workshop took place in Lille, France. The main objectives of the workshop were knowledge sharing activities to extract good practice and support knowledge transfer. Antoine Besson from the consortium partner BOUYGUES took part and represented the Elsa Project in the workshop in order to learn about the different current storage system projects and to focus on the different issues to integrate storage in the grid.
The initial approach adopted by Grid+Storage consisted in organising nine physical workshops per area of network operator activities (the "clusters" of the existing EEGI roadmap) with a specific focus on energy storage.
During These two days, six smart grid projects were presented:
LINEAR: Large-scale residential demand response project with 250 families in Flanders. The families have washing machines, dishwashers, tumble dryers, electric boilers, EV's and heat pumps. Dynamic pricing, portfolio balancing, voltage control are tested.
Pampus Project: Demonstration on the Pampus Island of second life usage by the DSO of used car batteries at households with solar panels.
Smart Substation: Innovative solutions bringing new functionalities and complete substation digitizing (electrical, mechanical, environmental data).
GREDOR: Addresses challenges in the management of distribution systems raised by the integration of renewable energy sources and new consumption practices, from investment decisions to realtime control.
VENTEEA: Improve the hosting capacity for renewable energies on the medium voltage Network.
AES Advancion Energy Storage Array: Commercial installation of 10 MW Li-ion batteries connected to the transmission network of TenneT NL.

The final objective was to elaborate recommendations for the EU to develop storage systems and to point out missing parts in the energy regulation plan:
Regulatory harmonisation on storage,
Knowledge sharing on demonstrations
Business good practices (from product specification to competitive procurement) to turn energy storage and other demonstration technologies into viable business activities
Valuation of storage as a multi-service solution,
Ownership of storage
Standardisation of grid connected energy storage,
Clean CBA including LCA approaches
Taxes and fees that puts pressure on the real value of energy storage solutions.
For further Information on the workshop's outcome, please visit the Grid+Storage Website: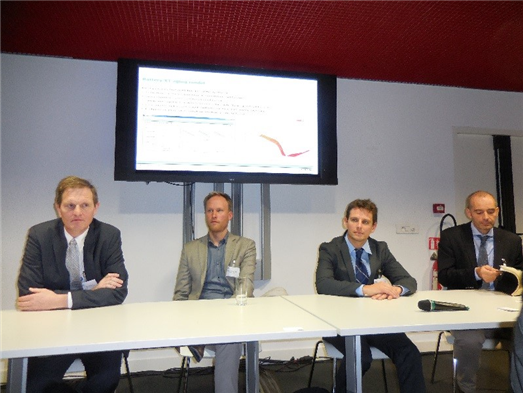 Picture (from left to right): Henrik Dam (Policy Officer New energy technologies and clean coal, DG ENERGY, European Commission), Haike van de Vegte (Senior Consultant New Energy Technologies, DNV, GL Energy), Pieter Vingerhoets (Project coordinator smart grids and ICT applications, KU Leuven), Eric Peirano (Grid+Storage Project Manager, TECHNOFI)