Energy Storage with 2nd Life Batteries:
ELSA holds its first stakeholder workshop
The first ELSA stakeholder meeting was held on the 2nd and 3rd of May at the E.ON Energy Research Center of the RWTH Aachen University. The multi-disciplinary research institution is a member of the ELSA consortium and hosts one of the ELSA trial sites where a battery storage system consisting of second life batteries from electric vehicles will be installed at the end of 2016.
The meeting was titled "Energy Storage with 2nd Life Batteries" and addressed mainly expert stakeholders from the energy and building domain.
The first day of the workshop was dedicated to the topic of use-cases for small- and medium scale storage solutions. The day was kicked off with a keynote speech from Henrik Dam (DG Energy, European Commission) on the "European Policy Framework for Research and Innovation on Energy Storage". The main topics of the speech were the European Energy Union's research and innovation dimension as well as the role of storage in the European Commission's Strategic Energy Technology (SET) Plan.
In a second keynote speech, Marcus Fendt, managing director of The Mobility House, presented the company's approach of furthering electric mobility by offering innovative charging and energy storage solutions.
Vincenzo Croce (Engineering) and Stefano Riverso (UTRC Ireland Limited) presented the ELSA project and its six pilot sites with the respective use cases. In the following round table discussion, stakeholder needs and expectations regarding small- and medium scale storage solutions were discussed. Moderated by Prof. Antonello Monti (RWTH Aachen University), the three panelists Etienne Gaudin (E-Lab Bouygues-SA), Herman Annendyck (Eoly, Colruyt Group) and Pol Olivella-Rosell (Smart Innovation Østfold) presented their view on the topic. One of several points discussed during the panel was the need to focus more strongly on the aspect of customer engagement.
At the end of the first workshop day, the participants were invited to take part in a tour of the E.ON Energy Research Center, including the site where the ELSA battery storage system will be installed later this year.
The second workshop day focused on the topic of business-cases for small-and medium scale storage solutions and started with an introduction to the topic by Massimo Bertoncini (Engineering). The presentation prepared the workshop participants for the following world café with the topic: restrictions and opportunities for implementing storage solutions (Moderation: Ludwig Karg, B.A.U.M. Consult).
The participants were invited to discuss the following four questions at four topical tables:
What are possible business cases for small-to medium-scale storage solutions?
What are national and international regulations that facilitate or hinder business cases?
What are technical developments that could facilitate business cases?
What are potential potential market designs for storage and flexibility solutions?
The workshop closed with a round of feedback from the participants and an invitation to join the upcoming ELSA midterm conference on October 27-28, 2016 in Paris.
Download the presentations below:
Introductory presentations from the panel discussion on "Stakeholders' needs and expectations regarding small- and medium-scale storage solutions":
Impressions from the first ELSA stakeholder workshop: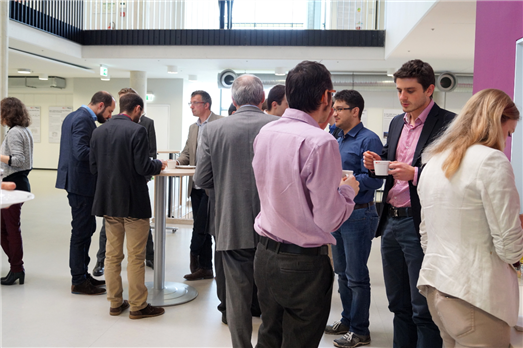 Participants at the networking buffet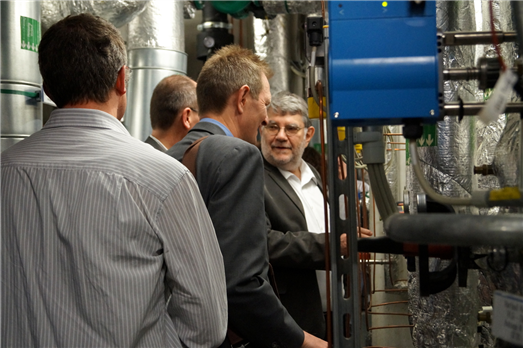 Visit of the trial site in Aachen (Ludwig Karg, B.A.U.M. Consult with Henrik Dam (European Commission)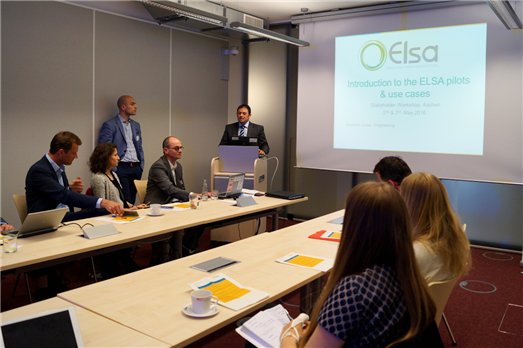 Vincenzo Croce (Engineering) presenting the ELSA pilots & use cases
Below: Participants discussing during the world café