ELSA at the International Renewable Energy Storage (IRES) Conference

ELSA was exhibited during the poster session of the 11th IRES Conference in Düsseldorf, Germany between 14th and 16th of March 2017.
The IRES conference was focusing on the latest development experience and research results within renewable energy storage for the following sectors: power, heating, and transport and mobility. Applicability and storage needs were analysed and discussed at the conference with an emphasis on decentralized energy supply systems.
A poster titled 'Maximising Electricity Self-Supply at City Quarter Level with a PV Battery Energy Storage System based on Second Life Electric Vehicle Batteries' was displayed at the IRES Conference. Especially the ELSA pilot site in Kempten (Germany), one of a total of six ELSA pilot sites, was showcased. The pilot site has a battery storage system with a total capacity of up to 95 kWh and is combined with PV rooftop plants with a total peak power of 37.1 kWp in a residential area with six multi-family houses (81 apartments). The main goal at the Kempten pilot site is to maximise the district's self-supply with PV electricity and to mitigate the difference of PV power and electricity demand fluctuations, that is the residual demand, at city quarter level. The battery-enabled services to be tested at the Kempten pilot include, in addition to increasing self-supply through PV power and demand smoothing, the provision of primary reserve, balance group optimisation, reactive power compensation and participation at the energy trade market.
For more information on the IRES Conference 2017 please visit: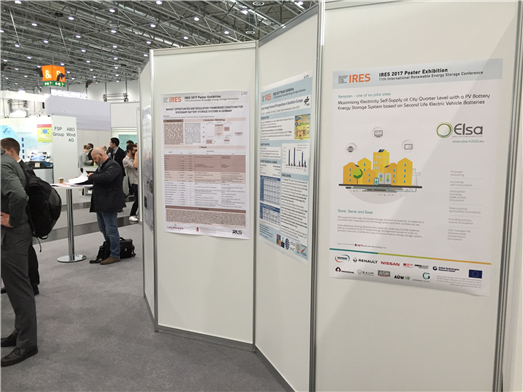 ELSA at poster session (IRES 2017)